Myriota joins ground-breaking South Australian space services mission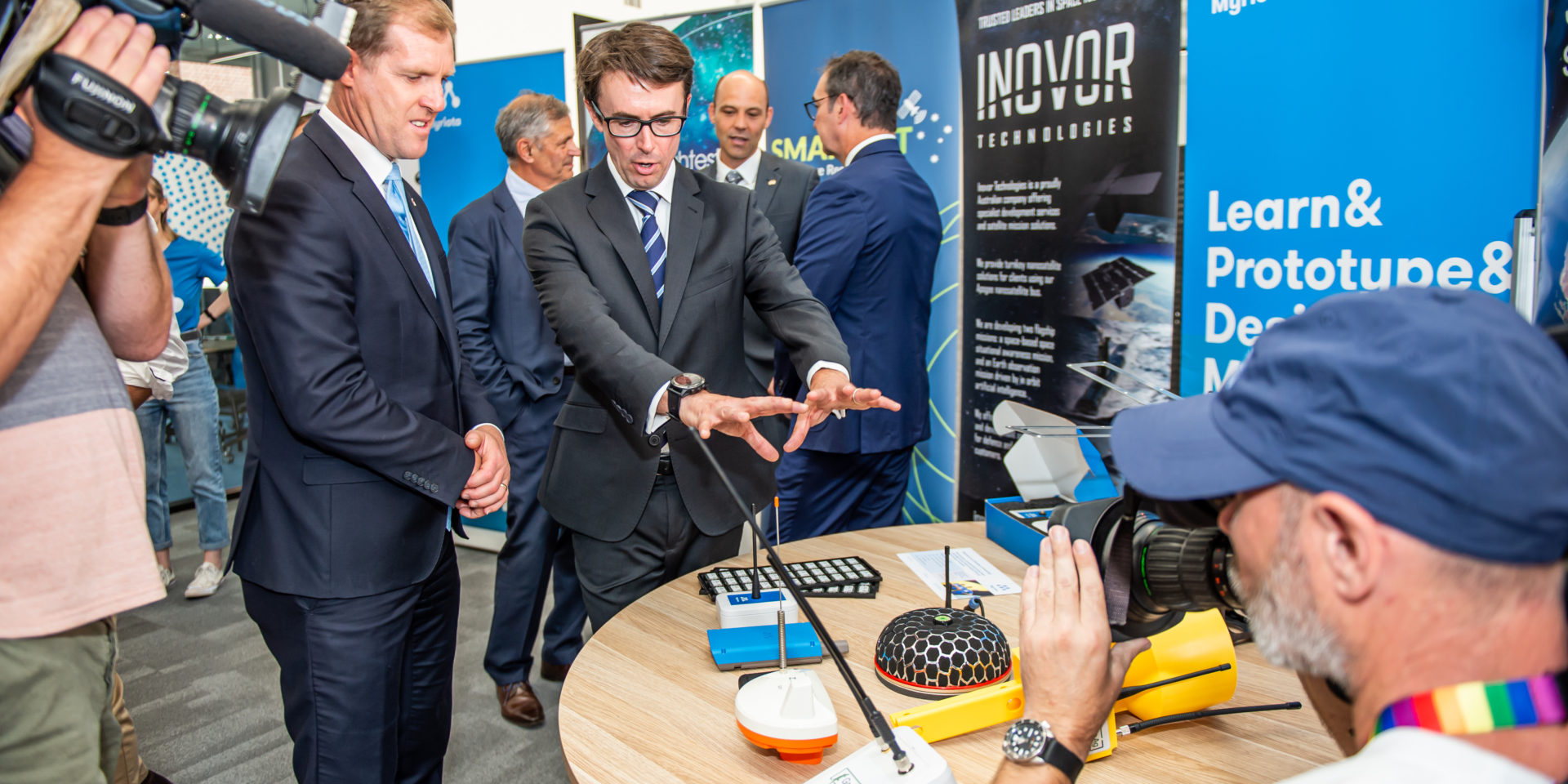 Photo courtesy of SmartSat CRC and Sarah Darbyshire
SASAT1 to support the improvement of state emergency, environment, water monitoring and bushfire mitigation services.
Adelaide, Australia – 20 January 2021 – Myriota, the world leader in secure, low-cost and long battery life satellite connectivity for the Internet of Things (IoT), has announced its involvement in the SASAT1 Space Services Mission to deliver space services to South Australia.
The ground-breaking $6.5 million project was today announced by Premier Steven Marshall, and marks a new partnership between the South Australian state government and industry. Myriota will provide IoT space services for the new small satellite, which – once deployed – will support the improvement of state emergency, environment, water monitoring and bushfire mitigation services.
Research consortium SmartSat CRC will lead the mission and application prototyping, with satellite manufacturing company Inovor Technologies designing and building the satellite.
Once launched into low Earth orbit, the satellite will support data collection from ground based sensors plus Earth observation imaging via a hyperspectral electro-optical payload. Myriota's IoT connectivity will support the collection of data about multiple weather events, including rainfall and bushfires – both of which have been impacted by climate change in recent years.
Myriota CEO and co-founder Dr Alex Grant, said that the mission provides a great opportunity for understanding the state's environment, while simultaneously creating opportunities for collaboration across South Australia's growing space ecosystem.
"Myriota is proud to be involved in the SASAT1 project, and to partner with space industry leaders Inovor Technology, the SmartSat CRC, and the South Australian government," Dr Alex Grant said.
"South Australia sits at the heart of Australia's space industry, and is leading the growth of our national ecosystem. The Space Services Mission will benefit South Australians through the improved delivery of emergency services, and environmental monitoring."

Alex Grant, Co-founder & CEO, Myriota
Commencing in the coming months, SASAT1 is aimed at driving growth across South Australia's space economy, while also strengthening the competitiveness of local businesses operating throughout the small-satellite supply chain. The mission will deliver the satellite in 15 months for launch into orbit, with the satellite available for a further three years to 2024 for data collection and operations.
South Australian Premier Steven Marshall said that the project is central to the South Australia Growth State: Space Sector Strategy, which was announced in November.
"South Australia is embarking on a bold mission with industry to design and build a satellite to deliver space-derived services to the state – a venture never undertaken before by any State Government around the country" Premier Marshall said. "Applications include using the data and imagery we collect to solve real life problems, like helping farmers monitor water levels so they can more accurately predict future yields."
"The SASAT1 Space Services Mission will deliver significant value to our state and to our local space industry as well as paving the way for growth in space-craft export, IoT sensor exports, Department of Defence and Australian Government space and defence-related projects and the South Australian supply chain."