Myriota launches commercial service in the United States and Canada with second-generation nanosatellites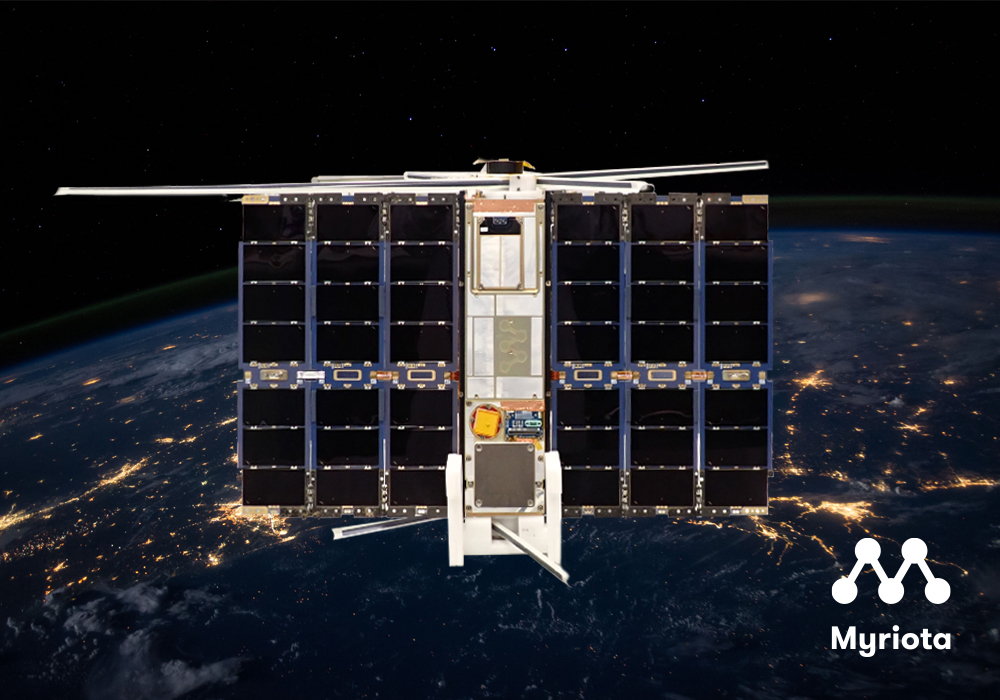 Three satellite launches and the new Developer Toolkit to accelerate customer adoption of Myriota technology worldwide and herald in a new era of affordable connectivity for the global IoT industry
Adelaide, Australia – 23 March 2021 – Myriota, the world leader in secure, low-cost and long battery life satellite connectivity for the Internet of Things (IoT), today announced the availability of commercial IoT services in the United States and Canada, with the first of three new nanosatellites launching on Rocket Lab's 'They Go Up So Fast' mission.
Weighing less than seven kilograms and the size of a loaf of bread, the nanosatellites will deliver an improved, second-generation Myriota Network which will be open to customers in the US and Canada for the first time.
The service launch is accompanied by a new Myriota Developer Toolkit, which provides developers with the tools needed to unlock their industry's full potential, thanks to Myriota IoT connectivity. Myriota's first-generation network is already delivering millions of messages in Australia and New Zealand and connecting critical industries like environmental monitoring, agriculture and mining. Myriota Certified commercially available products include Goanna Ag'srain gauge and water tank level monitor – GoRain and GoTank, Yabby's dam level monitor – the Yabby Floating Level Sensor – and the Yabby Level Sensor and Rain Gauge.
Myriota has attracted over AU$50 million venture capital from investors including MainSequence Ventures and Hostplus, as well as US-based Boeing HorizonX Ventures, In-Q-Tel, and Singtel Innov8. The launch of Myriota's American and Canadian services follows the acquisition of select satellites and ground stations from exactEarth Ltd. (TSE: XCT) in April 2020.
"The launch of our second-generation network ushers in a new era for the global IoT sector – one where data from devices is accessible anywhere on the planet in a secure and affordable manner," said Dr David Haley, Myriota CTO and co-founder.
"Myriota Certified devices developed by our customers are already in the hands of end users and are revolutionising their industries. With our second-generation platform they will now be able to send more messages and larger amounts of data each day."

Dr David Haley, Myriota CTO and co-founder
"We are very excited to be launching our commercial service in the US and Canada. This expansion puts us in pole position in the race to provide connectivity everywhere to support a global IoT market that is expected to triple in size to more than 25.4 billion devices by 2030.
"As the first network of our kind to be supporting commercially available products, we have already demonstrated the power of our unique direct-to-orbit technologies to transform the IoT sector. We see huge potential to help our customers develop and bring new IoT driven solutions to the American and Canadian markets."

Dr David Haley, Myriota CTO and co-founder
Myriota's second-generation network will:
Reduce latency and enable faster transfer of data between assets located anywhere on Earth and Myriota's constellation.
Increase uplink capacity on the network, allowing customers to send larger amounts of data from devices each day.
Increase downlink capacity on the network, enhancing Myriota cloud-to-device communications capabilities including existing over-the-air updates.
Support the activation of commercial network services in the United States and Canada.
The launch with Rocket Lab is the first for Myriota in 2021, with two further launches planned.
The second-generation Developer Toolkit allows engineers and developers to add affordable, secure, extensive battery life IoT connectivity to their products by integrating the Myriota Module into their devices. The Myriota Module costs US$50 each, lasts for over 10 years on standard AA batteries, and can send messages for a few cents each.
The new toolkit has a larger, user-friendly enclosure which provides engineers with a greater scope for experimentation and innovation. It includes essential hardware components that enable developers to prototype, test and deploy devices for in-field use across the most environmentally demanding and remote locations. It can be used as a developer platform for the Myriota Module, or to fast track the design and implementation of Myriota enabled solutions across industries including utilities, transport and logistics, supply chain, agriculture, environmental, mining and defence.
Myriota Certified commercially available products have been launched by the following businesses, with many more due to be announced in the coming months:
The Myriota Developer Toolkit costs US$600 and is available for purchase here: Developer Toolkit (Service 2)