Myriota and Goanna Ag Launch Innovative Ag Tech Products to Manage Rainfall and Water Usage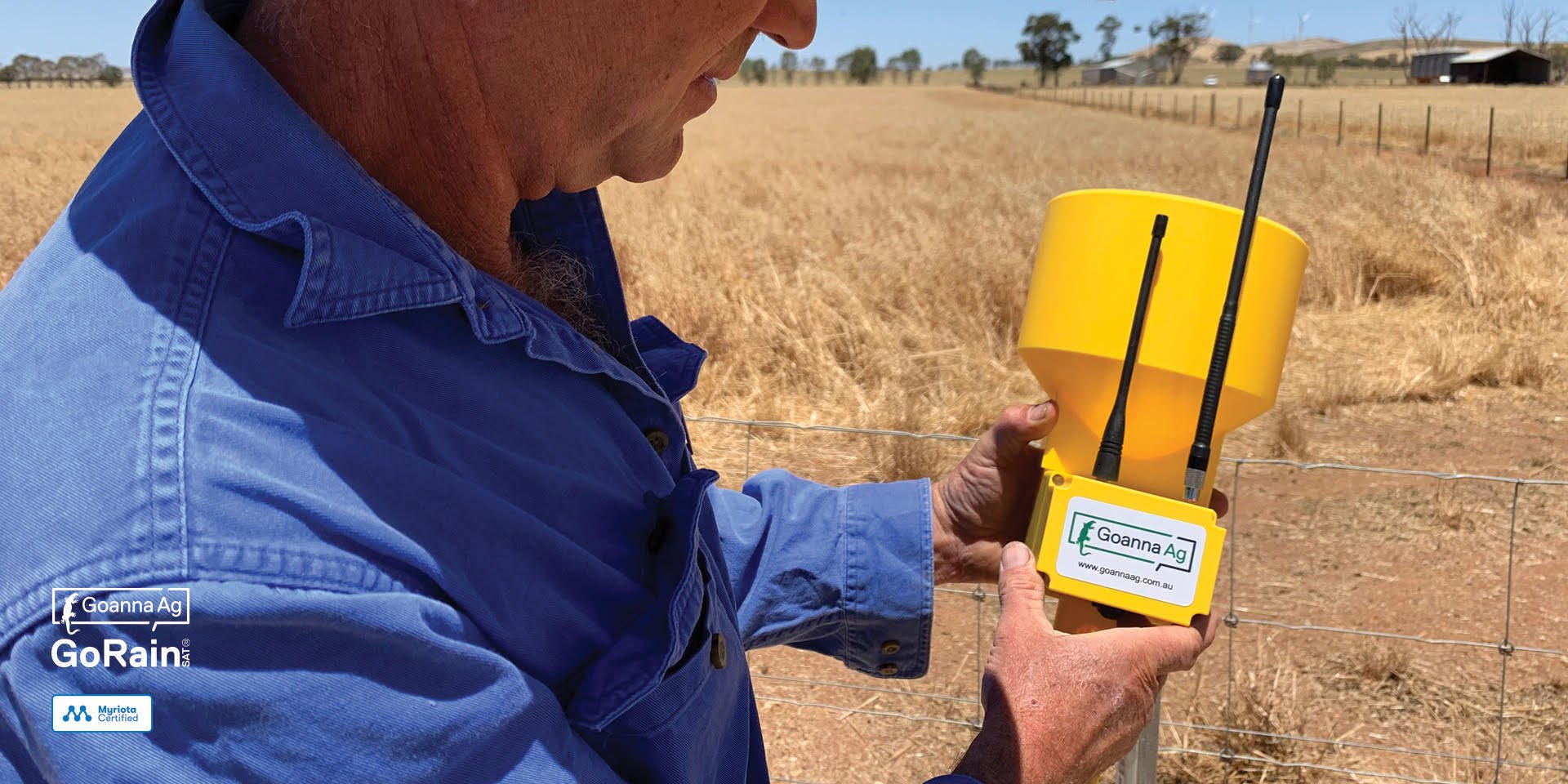 Adelaide, Australia – 17 February 2021 – Australia's climate has wreaked havoc on farming in recent years, with periods of drought as well as increased rainfall caused by La Niña impacting agricultural production. The drought that began in 2019 was estimated to have reduced Australia's GDP by between $9.5 billion and $14 billion, and demonstrates why water management has never been more critical to the survival of the Australian agricultural industry.

Goanna Ag, Australia's leading provider of on-farm sensor solutions, and their partner Myriota, the world leader in low-cost and low-power satellite connectivity for the Internet of Things (IoT), have today announced the commercial launch of two innovative new products set to change how farmers manage water resources: GoRainSat® and GoTankSat™.
GoRain allows farmers to monitor rain data remotely, gain a better understanding of rain variability across their farms, and enable data-driven decisions to support stronger crop yields. GoTank is designed for the livestock industry, and remotely updates farmers on water tank levels. It ensures livestock well-being and removes the need to manually check water tanks.
Underpinned by Myriota's low cost, long battery life and connectivity, GoRain and GoTank usher in this new era of affordable digital innovation in water management, and solve one of agriculture's biggest challenges – the optimisation of on-farm water use. One project backed by the Australian Department of Agriculture and Water Resources revealed that digital innovation initiatives have the potential to increase the GDP of the Australian agricultural sector by $20.3 billion.

The partnership between Goanna Ag and Myriota will see GoRain and GoTank devices make use of Myriota's Network of nanosatellites, which provides a low-cost, low-power solution for IoT connected devices. For farmers this means that data from rain gauges and tank monitors can now be collected from anywhere in the world where you can see the sky, and seamlessly displayed in Goanna Ag's apps, Goanna Telemetry App (Google Play) and GoApp (App Store) – the first of their kind in the world.
Goanna Ag's CEO, Alicia Garden, believes that GoRain and GoTank will play an important role in the future success of Australia's $62 billion agriculture sector.
"Rainfall is the fundamental driver of agricultural production, and while we can't make it rain more, GoRain and GoTank will bring confidence to decision making for our hard-working food and fibre producers. We believe that this technology will transform the Australian market and provide the information needed to support the industry in even the most challenging times."

Alicia Garden, CEO, Goanna Ag
Myriota CEO and co-founder Dr Alex Grant said that the launch of GoRain and GoTank comes at a critical time for the Australian agricultural sector.

"By providing the agricultural industry with data about precious on-farm water assets at the click of a button, Myriota and Goanna Ag are supporting the industry to make highly strategic decisions that will ensure the survival of crops and livestock," Dr Grant said.

"GoRain and GoTank are able to obtain on-site data from anywhere and deliver that information to the farmer via the Myriota Network; removing the guesswork and providing accurate data about on-farm water levels."

Alex Grant, Co-founder & CEO, Myriota
Both products have been designed and manufactured in Australia to meet Australian standards, with three years battery life, in-built GPS and IoT connectivity. The integration of Myriota's technology ensures scalability, strong cryptographic security, and affordability. Most importantly, the products allow farmers to deploy cutting-edge water management technology at a fraction of the cost of alternative solutions.
Goanna Ag customers Chris and Broden Holland have a farm 3,500 hectares north of Young in New South Wales.
"Like most farming businesses, our success is largely determined by our ability to make the most out of whatever rainfall we receive. For us, that begins by having a better understanding of when and where that rain falls. We use Goanna Ag rain gauges as a key part of our management system to help us precisely maximise our grain production," Broden Holland said.
"The insights we now have as a result of capturing and understanding our data from across our farm enables us to make more informed and timely decisions. This has given us the confidence to increase our inputs to push our yields higher."

Broden Holland, Farmer
Both the GoRain and GoTank can be purchased directly from the Goanna Ag website, or through distributors including Delta Agribusiness, AgnVet, Elders and Aquawest effective immediately. Pricing for the GoRain is $AU900+GST, with the GoTank costing $AU1,150+GST. Platform and connectivity for both devices starts at $AU120 per annum from Year 2.